Private Internet Access is quickly becoming a popular choice for mobile and desktop devices and the fact that it has more servers than even the most downloaded VPNs, might have something to do with it.
We tested PIA on Windows 10 and it works flawlessly. Installation is easy and straightforward as you can see in the step-by-step guide below.
There's also a description that highlights some of the reasons choosing PIA is a good choice and why it may not be the best option, just in case you're still on the fence.
Quick Guide: How to Install Private Internet Access on Windows
Subscribe to Private Internet Access.
Download the app to your Windows device and open it to install PIA.
Use the username and password you got via email to log in.
That's it! Connect to the server of your choice.
Get Started with Private Internet Access Today!
Why Choose Private Internet Access?
35,550 servers in 77 countries
10 devices per license
30-day money-back guarantee
Works with: Netflix US, Amazon Prime Video, Disney+, HBO, Crunchyroll, Steam, and more
Compatible with:




























Private Internet Access has 35,550+ servers in 77 countries, so you'll rarely have to worry about overcrowding. It even gives you access to some of your favorite streaming accounts from almost anywhere, including Netflix and BBC iPlayer.
It uses 128-bit AES encryption by default and OpenVPN protocol, though it does offer the option to use 256-bit AES if you choose. PIA has a strict no-logs policy, so there's no chance of the service sharing or selling your data. To further protect your privacy and devices it offers MACE, an all-in-one ad, malware, and tracker blocker.
Private Internet Access does bypass the Great Firewall of China and gives you access to YouKu and Todou but you're going to have to deal with buffering. Speeds are inconsistent on the China server, fluctuating between 3-6Mbps for download. I didn't even get to watch the video I selected on YouKu, it just buffered for five minutes and froze. For that reason, I can't recommend it for China.
The app interface for all devices is highly-intuitive and the service allows you to use one license on up to 10 devices simultaneously. Private Internet Access also offers a 30-day money-back guarantee, so you aren't tied to a long-term plan if the service isn't a good fit for your needs.
That said, before you make a decision to download PIA for Windows, I recommend checking out our in depth review. That way you can make a fully-informed decision before you purchase a plan.
Step By Step Guide to Installing PIA on Windows
1. Go to Private Internet Access, select the Pricing tab, on the next page click Select Plan under the plan you want.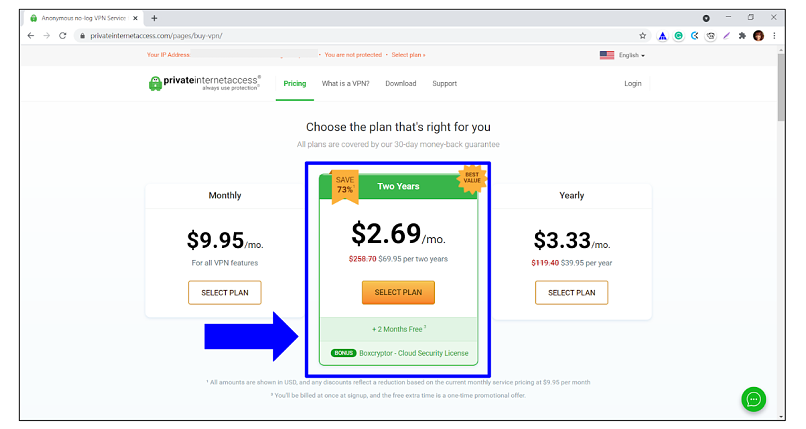 2. Choose your payment method and fill out the required fields, then click the orange Pay Now button.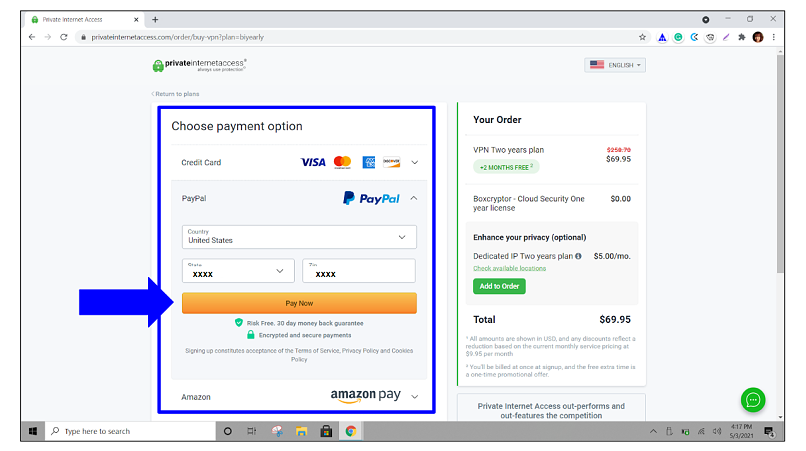 3. Once payment is complete you'll see a Welcome screen that lets you know a confirmation email containing your username and password has been sent.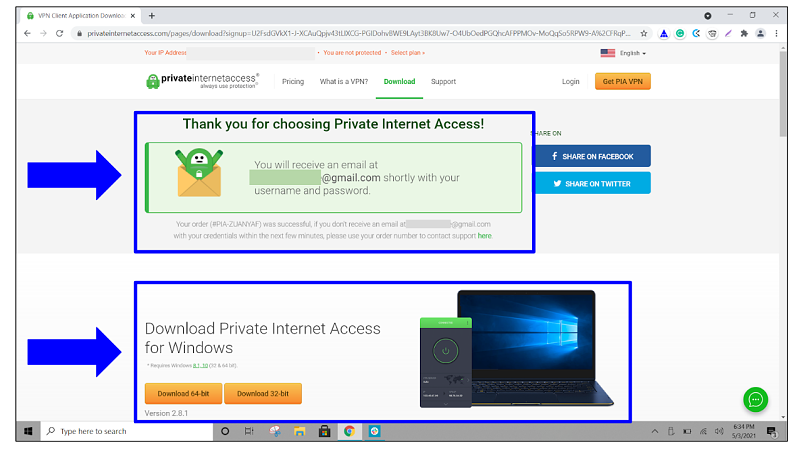 In that same window you will see the option to download PIA for the device you used to purchase your subscription.
Don't Use If: Private Internet Access and most other VPNs don't offer compatibility for ARM-based processors yet. Even if you have a compatible version of Windows installed you won't be able to use PIA on any ARM-based device.(Ex. Some Samsung S Books, Chromebooks, Netbooks, and more)
4. On the next screen you'll see the download file toward the bottom of the screen in the lower left hand corner, I chose Windows 64-bit. Once it's complete, press the menu arrow and select Open.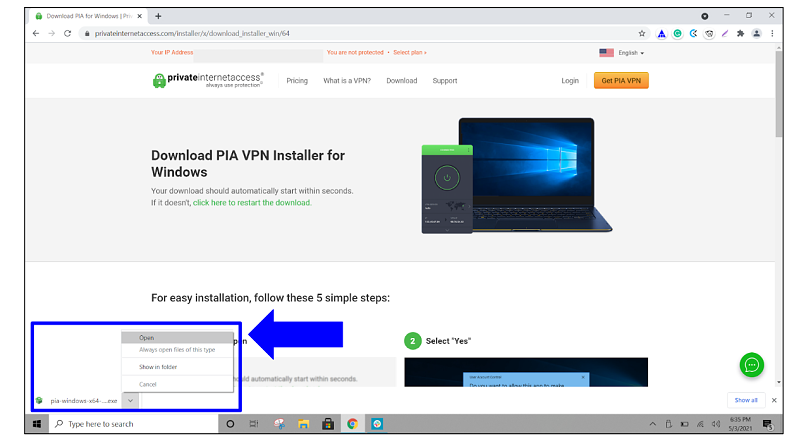 5. Install will begin once you confirm the download, and takes less than three minutes.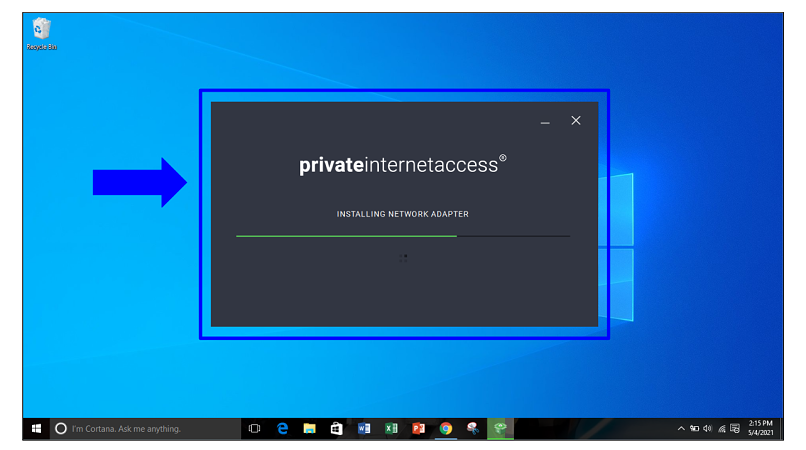 6. Once install is complete, you'll see the log in window. You  may also take a Quick Tour of the service, a nice feature for first time VPN users.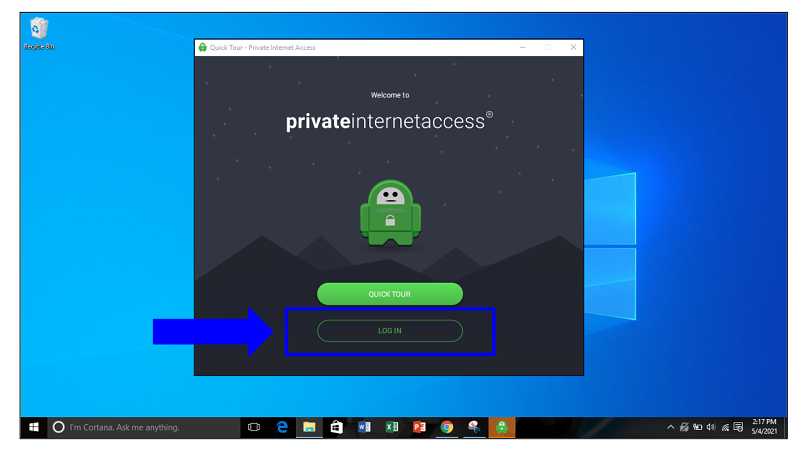 7. Retrieve your username and password from the email you used to sign up for PIA and log in.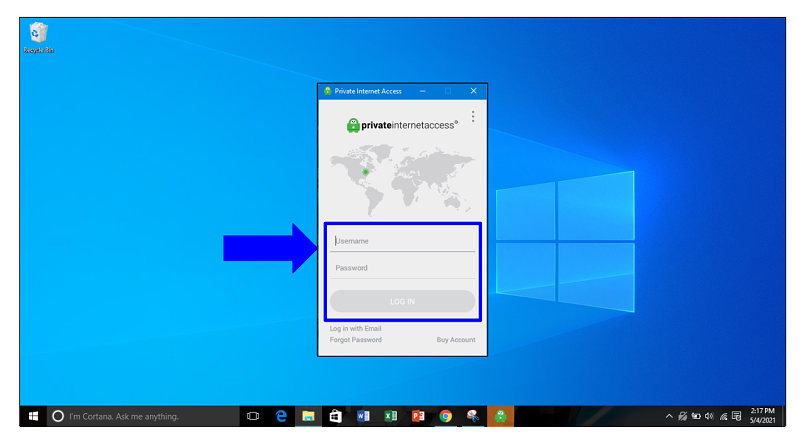 8. That's it installation is complete! If you want fast access to a server just click the Auto Connect button to get started.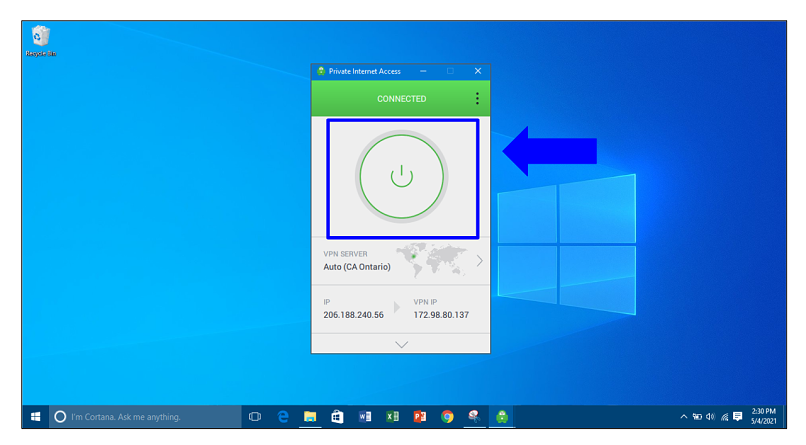 Get Started with PIA for Windows Today!
FAQs on Installing PIA on Windows
Does PIA work on Windows Phones?
No. Windows 8.1 and 10 (32 or 64-bit) are only mentioned under compatibility for desktop. Private Internet Access states it's only compatible with the following mobile devices: iOS 11 or newer (64-bit) and Android 5.0 or newer (only mobile devices).
Can I Install PIA on Windows 7?
Yes. PIA does work on Windows 7 laptops and desktops both 32 and 64-bit versions, however, you won't be able to get assistance from customer support if you have any issues with installing or using the service on that OS. Here is a snippet from an announcement made on the site this year:
"We understand that some of our users are not currently in a position to move forward from the Windows 7 OS. Regardless of your reasoning, we've chosen to offer the ability to utilize PIA on the Windows 7 Operating System. Although we're unable to provide support for the use of PIA on the operating system due to security risks, our users can download version 2.3.2 of the VPN client to successfully be protected by PIA. Using this version will allow you to connect to our Next Generation Network, use the Split Tunneling feature, as well as enable our ad blocking feature, MACE. " – (Windows 7 Support, Announcement, Private Internet Access, 2021)
Does Private Internet Access have a free trial?
No but it does have a 30-day money-back guarantee, that it encourages first-time users to take advantage of to test the service risk-free. That way you have access to all its security and privacy features, and over 35,550 servers in 77 countries.
Decide PIA isn't a good fit for you? Here are the best alternatives for Windows in 2021:
Provider
Our Score
Visit Website
ExpressVPN

9.8

/10





IPVanish VPN

9.8

/10





CyberGhost VPN

9.6

/10





PrivateVPN

9.2

/10





VyprVPN

9.0

/10





{"@context": "https://schema.org/","@type": "HowTo","name": "Step By Step Guide to Installing PIA on Windows","step": [{"@type": "HowToStep","text": "rnrn1. Go to Private Internet Access, select the Pricing tab, on the next page click Select Plan under the plan you want.rnrnrnrn","image": "https://www.vpnmentor.com/wp-content/uploads/2021/05/install-pia-windows-vpnmentor-1-1-autoresized86X.png","name": "Select the Pricing tab and then click Select Plan under the one you want.","url": "https://www.vpnmentor.com/blog/install-pia-for-windows/#_step_0"},{"@type": "HowToStep","text": "rnrn2. Choose your payment method and fill out the required fields, then click the orange Pay Now button.rnrnrnrn","image": "https://www.vpnmentor.com/wp-content/uploads/2021/05/install-pia-windows-vpnmentor-2-autoresized86X.png","name": "Choose your payment method and complete the required fields, then click the Pay Now button.","url": "https://www.vpnmentor.com/blog/install-pia-for-windows/#_step_1"},{"@type": "HowToStep","text": "rnrn3. Once payment is complete youu2019ll see a Welcome screen that lets you know a confirmation email containing your username and password has been sent.rnrnrnrnIn that same window you will see the option to download PIA for the device you used to purchase your subscription.rnrnDonu0026#039;t Use If: Private Internet Access and most other VPNs donu0026#039;t offer compatibility for ARM-based processors yet. Even if you have a compatible version of Windows installed you wonu0026#039;t be able to use PIA on any ARM-based device.(Ex. Some Samsung S Books, Chromebooks, Netbooks, and more)nrnrn","image": "https://www.vpnmentor.com/wp-content/uploads/2021/05/install-pia-windows-vpnmentor-3-autoresized86X.png","name": "A confirmation email will be sent that contains your username and password, on the same page download PIA for Windows.","url": "https://www.vpnmentor.com/blog/install-pia-for-windows/#_step_2"},{"@type": "HowToStep","text": "rnrn4. On the next screen youu2019ll see the download file toward the bottom of the screen in the lower left hand corner, I chose Windows 64-bit. Once itu2019s complete, press the menu arrow and select Open.rnrnrnrn","image": "https://www.vpnmentor.com/wp-content/uploads/2021/05/install-pia-windows-vpnmentor-5-autoresized86X.png","name": "Once download is complete open the file.","url": "https://www.vpnmentor.com/blog/install-pia-for-windows/#_step_3"},{"@type": "HowToStep","text": "rnrn5. Install will begin once you confirm the download, and takes less than three minutes.rnrnrnrn","image": "https://www.vpnmentor.com/wp-content/uploads/2021/05/install-pia-windows-vpnmentor-6-autoresized86X.png","name": "Install the app on your device.","url": "https://www.vpnmentor.com/blog/install-pia-for-windows/#_step_4"},{"@type": "HowToStep","text": "rnrn6. Once install is complete, youu2019ll see the log in window. Youu00a0 may also take a Quick Tour of the service, a nice feature for first time VPN users.rnrnrnrn","image": "https://www.vpnmentor.com/wp-content/uploads/2021/05/install-pia-windows-vpnmentor-7-autoresized86X.png","name": "Once install is complete the log in window will appear.","url": "https://www.vpnmentor.com/blog/install-pia-for-windows/#_step_5"},{"@type": "HowToStep","text": "rnrn7. Retrieve your username and password from the email you used to sign up for PIA and log in.rnrnrnrn","image": "https://www.vpnmentor.com/wp-content/uploads/2021/05/install-pia-windows-vpnmentor-9-1-autoresized86X.png","name": "Use the username and password from the email you received to log in.","url": "https://www.vpnmentor.com/blog/install-pia-for-windows/#_step_6"},{"@type": "HowToStep","text": "rnrn8. Thatu0026#039;s it installation is complete! If you want fast access to a server just click the Auto Connect button to get started.rnrnrnrn","image": "https://www.vpnmentor.com/wp-content/uploads/2021/05/install-pia-windows-vpnmentor-11-autoresized86X.png","name": "That's it. Hit auto connect to get started.","url": "https://www.vpnmentor.com/blog/install-pia-for-windows/#_step_7″}],"tool": [{"@type": "HowToTool","name": "vpn"},{"@type": "HowToTool","name": "internet"},{"@type": "HowToTool","name": "windows"}],"totalTime": "PT5M"}{"@context":"https://schema.org/","@type":"FAQPage","mainEntity":[{"@type":"Question","name": "Does PIA work on Windows Phones?","acceptedAnswer":{"@type":"Answer","text": "No. Windows 8.1 and 10 (32 or 64-bit) are only mentioned under compatibility for desktop. Private Internet Access states itu2019s only compatible with the following mobile devices: iOS 11 or newer (64-bit) and Android 5.0 or newer (only mobile devices)."}},{"@type":"Question","name": "Can I Install PIA on Windows 7?","acceptedAnswer":{"@type":"Answer","text": "Yes. PIA does work on Windows 7 laptops and desktops both 32 and 64-bit versions, however, you wonu2019t be able to get assistance from customer support if you have any issues with installing or using the service on that OS. Here is a snippet from an announcement made on the site this year: u0026lt;emu0026gt;u201cWe understand that some of our users are not currently in a position to move forward from the Windows 7 OS. Regardless of your reasoning, weu2019ve chosen to offer the ability to utilize PIA on the Windows 7 Operating System. Although weu2019re unable to provide support for the use of PIA on the operating system due to security risks, our users can download version 2.3.2 of the VPN client to successfully be protected by PIA. Using this version will allow you to connect to our Next Generation Network, use the Split Tunneling feature, as well as enable our ad blocking feature, MACE. u201cu0026lt;/emu0026gt; – (Windows 7 Support, Announcement, Private Internet Access, 2021)"}},{"@type":"Question","name": "Does Private Internet Access have a free trial?","acceptedAnswer":{"@type":"Answer","text": "No but it does have a 30-day money-back guarantee, that it encourages first-time users to take advantage of to test the service risk-free. That way you have access to all its security and privacy features, and over 35,550 servers in 77 countries."}}]}
Original source: https://www.vpnmentor.com/blog/install-pia-for-windows/