Thanks to its over 35,550 servers in 77+ countries, Private Internet Access is quickly becoming a favorite with our readers. It bypasses tough geoblocks, shields your browsing habits from prying eyes, and offers 24/7 live customer support in the unlikely event that you do have an issue accessing content or using the service in general.
While it doesn't offer a free trial, it does offer a risk-free 30-day money-back guarantee and the best part is PIA encourages you to use it to try the service. Customer service only asks a minimal amount of questions when you request a refund too, which cuts down the annoyance factor of asking for your money back – though there are a lot of great reasons to keep the service that I'll get into a bit later.
Quick Guide: How to Get A Free Trial of Private Internet Access
Subscribe to Private Internet Access.
Download and install the app to your device.
Request a refund via chat within the 30-day window. Done!
Get A Risk-Free Trial of PIA Today!
Step By Step Instructions for Getting A Free Trial of PIA
1. Go to Private Internet Access's website and click on Pricing, when the new window appears hit the orange Select Plan button for the plan you want.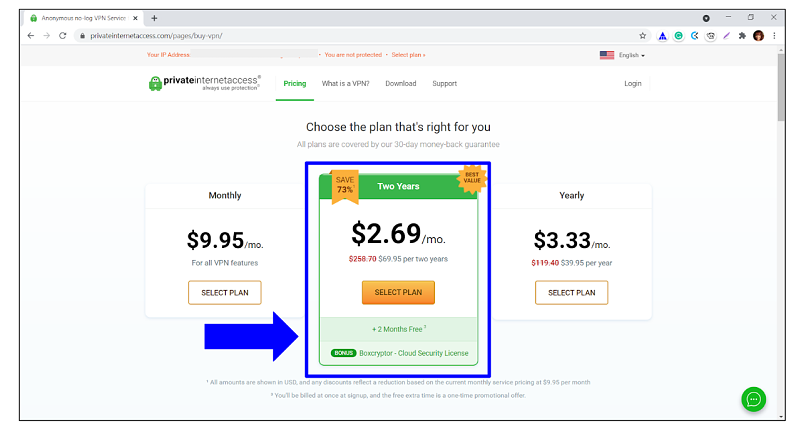 2. Choose your payment method and fill out the required fields, then click the orange Pay Now button.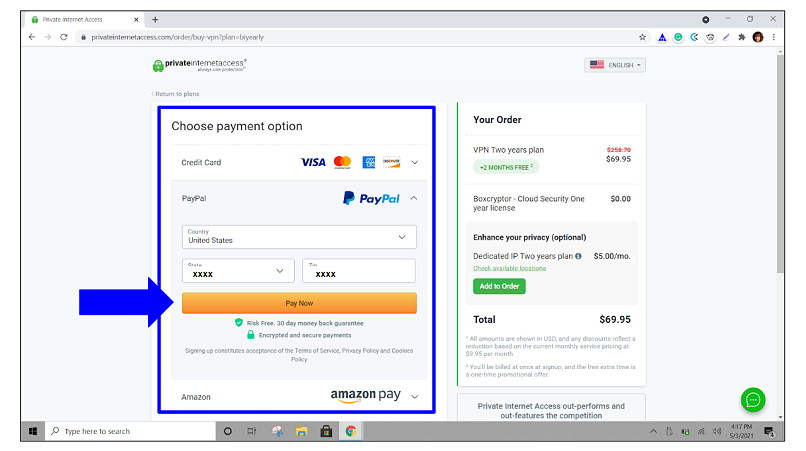 3. Once the payment has processed you'll see a Welcome screen that lets you know an email has been sent to your address on file, that contains your username and password.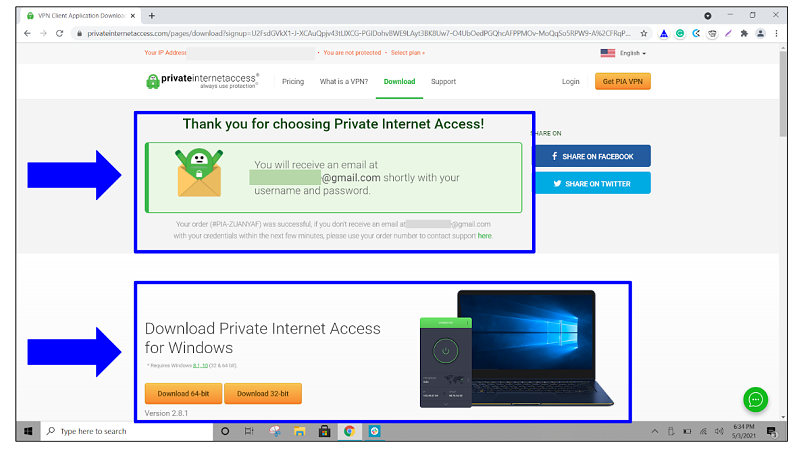 In that same window you will see the option to download PIA for the device you used to purchase your subscription. If you're doing this via mobile device, find PIA in your app store and click to install it. I chose Download 64-bit for Windows.
4. On the next screen you'll see the download file toward the bottom of the screen in the lower left hand corner. Once it's complete, press the menu arrow and select Open.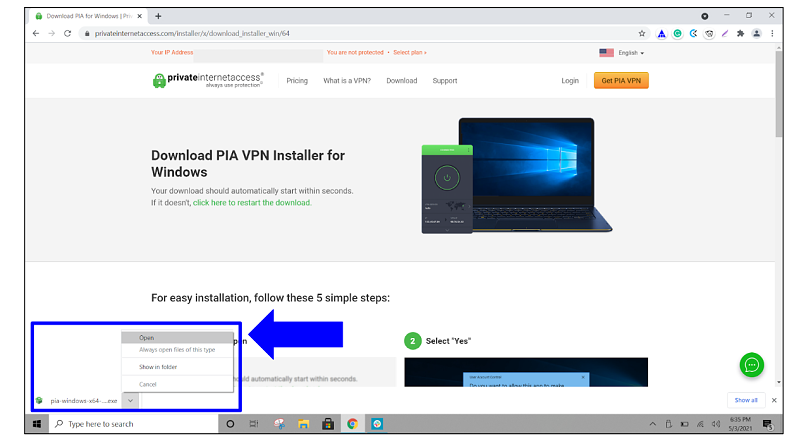 5. Log into the email you used to create your PIA account and retrieve your Username and Password.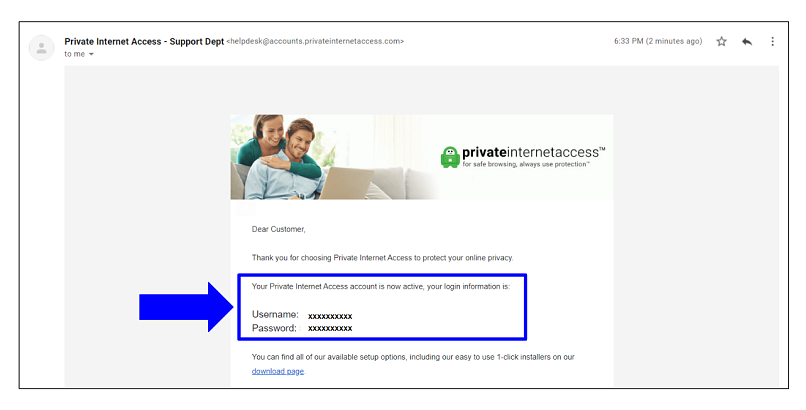 6. Use the PIA app of your choice to log in using the information. I went to Subscription Overview under Account and turned off Auto Renewal right away. While you don't need to do this, it isn't a bad idea. That way you get a reminder that your subscription is almost up and you don't miss the window for the money-back guarantee.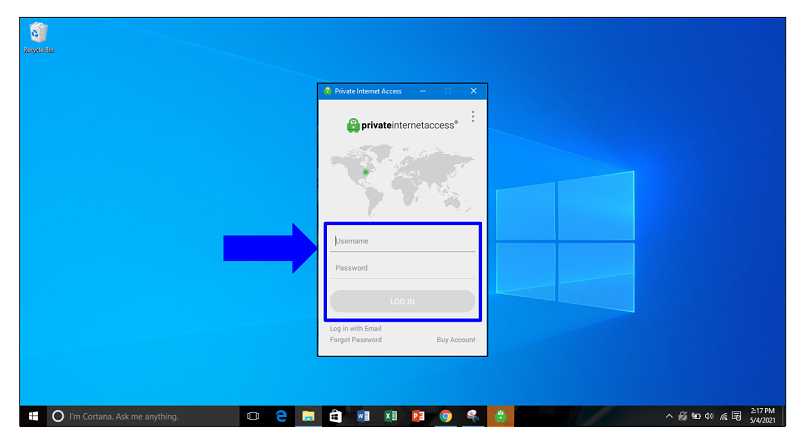 7. That's it. Connect to the server of your choice and remember to cancel your subscription via customer support before the 30-day money-back guarantee expires. That is, if you still want to cancel after trying the service.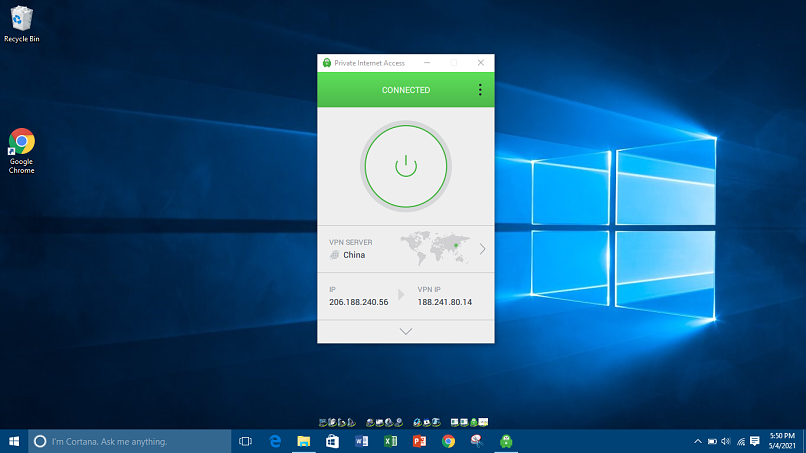 Pro Tip for Getting A Refund: Make sure to have your username and PayPal transaction ID or PIA transaction ID ready, you'll need them to get a refund. While they process refunds quickly, I got mine in less than 24-hours, you will need to provide a reason so it isn't a no-questions asked guarantee.
Why Choose Private Internet Access?
35,550 servers in 77 countries
10 devices per license
30-day money-back guarantee
Works with: Netflix, Amazon Prime Video, HBO, Disney+, Sling TV, and more
Compatible with:




























Aside from the massive amount of servers that make it easy to avoid overcrowding during peak hours, PIA has tough security features that can bypass almost any geoblock. That means you can access your Netflix account from almost anywhere in the world, you can also stream as much content as you want thanks to its unlimited data.
Private Internet Access uses industry-standard features like OpenVPN protocol and 256-bit AES encryption in addition to its default 128-bit. Other protocols offered by PIA include IKEv2, WireGuard, and L2TP. Plus, with a solid no-logs policy you'll never have to worry that your information is being sold to the highest bidder for marketing campaigns.
The user-friendly interface makes it easy to swap between protocols, turn on security features like the ad blocker, and contact customer support 24/7. PIA even offers P2P support, so you can find help if you're having trouble uploading or downloading files during torrenting or other P2P activities.
You can install the service on as many devices as you want, but it only allows up to 10 simultaneous connections per account. Private Internet Access also comes with that risk-free 30-day money-back guarantee and encourages you to use it to try all the unlimited features it has to offer.
May 2021 Update:
PIA doesn't usually have deals or discounts (it's already so affordable), but right now you can
get a new subscription for a crazy 78% off
!
Get A Risk-Free 30-Day Trial of PIA Now!
Bottom Line
While most VPNs don't tote money-back guarantees as a way to test the service, PIA is adamant that users give it a try and doesn't mind backing that with its guarantee.
With 30-days you can access any service you use regularly, test it on all of your devices, and even just protect your privacy while on vacation. If you don't love it, ask for a refund within the window and try another service.
FAQs
Does PIA have a referral option?
Yes. Access your account and click on Subscription Overview, then scroll down the page until you see a green banner with a white Refer A Friend button.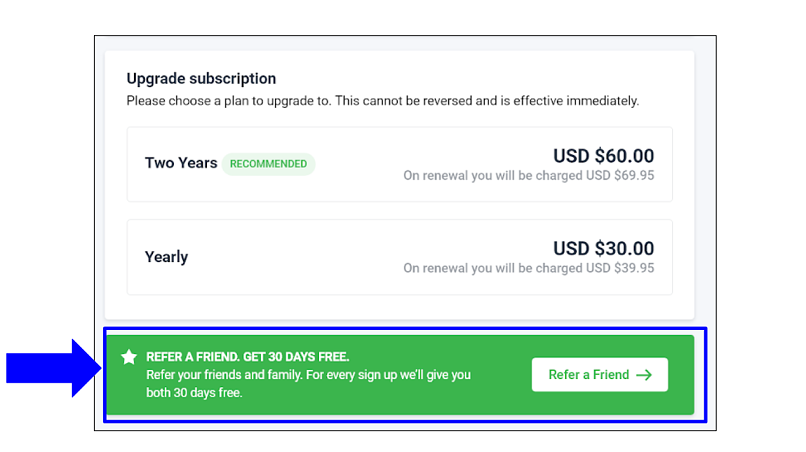 Click on the button to refer a friend, and if they sign up, you could both get 30-days free.
Can I use PIA on multiple devices?
Yes. Private Internet Access allows you to install the service on as many devices as you'd like, but you can only use 10 devices simultaneously. That's still more than most premium vendors that offer 5 simultaneous connections.
PIA vs ExpressVPN, which is faster?
Each one has excellent features and PIA does dominate when it comes to sheer number of servers, that said, ExpressVPN is going to offer the fastest speeds. Its new proprietary protocol Lightway, cut its old pingback down by more than half and increased the download and upload speeds considerably.
Does PIA work in China?
While I was able to access China using PIA with OpenVPN (TCP) protocol, the connections are slow and somewhat unreliable if you aren't a local. The speeds aren't great either as download speed wouldn't top 6Mbps.
I don't recommend PIA if you need regular, stable connections for China. In that case, you may want to try ExpressVPN.
Looking for something different, here are the top 5 best alternatives to PIA…..
Provider
Our Score
Visit Website
ExpressVPN

9.8

/10





IPVanish VPN

9.8

/10





CyberGhost VPN

9.6

/10





PrivateVPN

9.2

/10





VyprVPN

9.0

/10





{"@context": "https://schema.org/","@type": "HowTo","name": "Step By Step Instructions for Getting A Free Trial of PIA","step": [{"@type": "HowToStep","text": "rnrn1. Go to Private Internet Accessu2019s website and click on Pricing, when the new window appears hit the orange Select Plan button for the plan you want.rnrnrnrn","image": "https://www.vpnmentor.com/wp-content/uploads/2021/05/install-pia-windows-vpnmentor-1-autoresized86X.png","name": "Click on Pricing and select the plan you want.","url": "https://www.vpnmentor.com/blog/get-pia-risk-free/#_step_0"},{"@type": "HowToStep","text": "rnrn2. Choose your payment method and fill out the required fields, then click the orange Pay Now button.rnrnrnrn","image": "https://www.vpnmentor.com/wp-content/uploads/2021/05/pia_free_trial_refund_vpnmentor_2-autoresized86X.png","name": "Choose your payment method and complete the required fields, then clicking Pay Now.","url": "https://www.vpnmentor.com/blog/get-pia-risk-free/#_step_1"},{"@type": "HowToStep","text": "rnrn3. Once the payment has processed youu2019ll see a Welcome screen that lets you know an email has been sent to your address on file, that contains your username and password.rnrnrnrnIn that same window you will see the option to download PIA for the device you used to purchase your subscription. If youu2019re doing this via mobile device, find PIA in your app store and click to install it. I chose Download 64-bit for Windows.rnrn","image": "https://www.vpnmentor.com/wp-content/uploads/2021/05/pia_free_trial_refund_vpnmentor_3-autoresized86X.png","name": "You will receive a confirmation email with your username and password, in the window download the app for your device.","url": "https://www.vpnmentor.com/blog/get-pia-risk-free/#_step_2"},{"@type": "HowToStep","text": "rnrn4. On the next screen youu2019ll see the download file toward the bottom of the screen in the lower left hand corner. Once itu2019s complete, press the menu arrow and select Open.rnrnrnrn","image": "https://www.vpnmentor.com/wp-content/uploads/2021/05/pia_free_trial_refund_vpnmentor_5-autoresized86X.png","name": "Once the download is complete open the file to begin install.","url": "https://www.vpnmentor.com/blog/get-pia-risk-free/#_step_3"},{"@type": "HowToStep","text": "rnrn5. Log into the email you used to create your PIA account and retrieve your Username and Password.rnrnrnrn","image": "https://www.vpnmentor.com/wp-content/uploads/2021/05/pia_free_trial_refund_vpnmentor_6-autoresized86X.png","name": "Retrieve your username and password from your email.","url": "https://www.vpnmentor.com/blog/get-pia-risk-free/#_step_4"},{"@type": "HowToStep","text": "rnrn6. Use the PIA app of your choice to log in using the information. I went to Subscription Overview under Account and turned off Auto Renewal right away. While you donu2019t need to do this, it isnu2019t a bad idea. That way you get a reminder that your subscription is almost up and you donu2019t miss the window for the money-back guarantee.rnrnrnrn","image": "https://www.vpnmentor.com/wp-content/uploads/2021/05/install-pia-windows-vpnmentor-9-autoresized86X.png","name": "Once install has completed, log into the app.","url": "https://www.vpnmentor.com/blog/get-pia-risk-free/#_step_5"},{"@type": "HowToStep","text": "rnrn7. Thatu2019s it. Connect to the server of your choice and remember to cancel your subscription via customer support before the 30-day money-back guarantee expires. That is, if you still want to cancel after trying the service.rnrnrnrn","image": "https://www.vpnmentor.com/wp-content/uploads/2021/05/china-6-pia-autoresized86X.png","name": "That's it. Connect to the server of your choice or use auto connect to get started.","url": "https://www.vpnmentor.com/blog/get-pia-risk-free/#_step_6″}],"tool": [{"@type": "HowToTool","name": "vpn"},{"@type": "HowToTool","name": "internet"}],"totalTime": "PT5M"}{"@context":"https://schema.org/","@type":"FAQPage","mainEntity":[{"@type":"Question","name": "Does PIA have a referral option?","acceptedAnswer":{"@type":"Answer","text": "Yes. Access your account and u0026lt;strongu0026gt;click on Subscription Overviewu0026lt;/strongu0026gt;, then scroll down the page until you see a green banner with a white u0026lt;strongu0026gt;Refer A Friend buttonu0026lt;/strongu0026gt;. u0026lt;img class=u0026quot; wp-image-682295 aligncenteru0026quot; src=u0026quot;https://www.vpnmentor.com/wp-content/uploads/2021/05/referral_pia_vpnmentor-autoresized86X.pngu0026quot; alt=u0026quot;u0026quot; width=u0026quot;512u0026quot; height=u0026quot;287u0026quot; /u0026gt; Click on the button to refer a friend, and u0026lt;strongu0026gt;if they sign up, you could both get 30-days freeu0026lt;/strongu0026gt;."}},{"@type":"Question","name": "Can I use PIA on multiple devices?","acceptedAnswer":{"@type":"Answer","text": "Yes. Private Internet Access allows you to install the service on as many devices as youu2019d like, but you u0026lt;strongu0026gt;can only use 10 devices simultaneouslyu0026lt;/strongu0026gt;. Thatu2019s still more than most premium vendors that offer 5 simultaneous connections."}},{"@type":"Question","name": "PIA vs ExpressVPN, which is faster?","acceptedAnswer":{"@type":"Answer","text": "Each one has excellent features and PIA does dominate when it comes to sheer number of servers, that said, u0026lt;a aria-label=u0026quot;ExpressVPNu0026quot; onclick=u0026quot;clickedLinkExternal(u0026#039;Article ? – ShortCode Link u0026#039;, u0026#039;ExpressVPNu0026#039;);u0026quot; target=u0026quot;_blanku0026quot; class=u0026quot;shortcode_affiliate_link_1460 aff-link aff-top-vendoru0026quot; href=u0026quot;https://www.vpnmentor.com?Track_link=MTQ2MHw%3Du0026amp;vid=1460u0026amp;target=ShortCodeAffiliateLink_682003_post_209851u0026amp;pageid=682003u0026amp;type=postu0026quot; rel=u0026quot;nofollow noopener noreferreru0026quot;u0026gt;ExpressVPNu0026lt;/au0026gt; is going to offer the fastest speeds. Its new proprietary protocol Lightway, u0026lt;strongu0026gt;cut its old pingback down by more than halfu0026lt;/strongu0026gt; and increased the download and upload speeds considerably."}},{"@type":"Question","name": "Does PIA work in China?","acceptedAnswer":{"@type":"Answer","text": "While I was able to access China using PIA with OpenVPN (TCP) protocol, u0026lt;strongu0026gt;the connections are slow and somewhat unreliable if you arenu2019t a localu0026lt;/strongu0026gt;. The speeds arenu2019t great either as download speed wouldnu2019t top 6Mbps. u0026lt;strongu0026gt;I donu2019t recommend PIA if you need regular, stable connections for Chinau0026lt;/strongu0026gt;. In that case, you may want to try u0026lt;a aria-label=u0026quot;ExpressVPNu0026quot; onclick=u0026quot;clickedLinkExternal(u0026#039;Article ? – ShortCode Link u0026#039;, u0026#039;ExpressVPNu0026#039;);u0026quot; target=u0026quot;_blanku0026quot; class=u0026quot;shortcode_affiliate_link_1460 aff-link aff-top-vendoru0026quot; href=u0026quot;https://www.vpnmentor.com?Track_link=MTQ2MHw%3Du0026amp;vid=1460u0026amp;target=ShortCodeAffiliateLink_682003_post_209852u0026amp;pageid=682003u0026amp;type=postu0026quot; rel=u0026quot;nofollow noopener noreferreru0026quot;u0026gt;ExpressVPNu0026lt;/au0026gt;."}}]}
Original source: https://www.vpnmentor.com/blog/get-pia-risk-free/